RV>RECON MOBILE DETAILING  SERVICES
KEEP YOUR RV MOUSE FREE
As an RV owner, we know you enjoy adventure! However, we also know that pesky rodents can become a tricky problem that you don't want to have to deal with.
Mouse Free underbody coating protects your RV against unwanted critters. It actually keeps them out! Mouse Free prevents entry into your RV!

How Does It Work?
Simply spray the wheel wells and undercarriage of your RV creating a protective shield and barrier, which rodents cannot travel across. To do so, use a compressed air hose with a pressure between 80-100 PSI. Safe and Easy!
Added Benefits
Lubricates all moving parts
Prevents plastics and rubbers from drying and cracking
Protects metal from the elements
No Mess • No Drip • Non-Toxic 
| | | |
| --- | --- | --- |
| Mouse Repellents | Pros | Cons |
| Mouse Trap | Effective at killing mice that make it inside. | Does not prevent entry. Considered inhumane. |
| Poison | Effective at killing mice that make it inside. | Does not prevent entry and can kill pets/animals. |
| Moth Balls | Effective in small spaces. | Does not prevent entry. *Known to cause cancer in California* |
| Scented Dryer Sheets | Works on a very small scale. | Scent only lasts a few weeks and can be carried away. |
| Steel Wool Stuffed in Access Holes | Works on a very small scale. | Will rust & falls out while driving. Difficult to find access holes. |
| Cotton Balls scented with peppermint | Works on a very small scale. | Scent only lasts a few weeks, & ends up used as nesting material. |
| MOUSE FREE | Prevents entry. Humane. No trace to be seen! | Will only work if you purchase the treatment! |
Safety
Mouse Free is non-toxic and safe! The scent repelling properties within the formula are derived from 100% natural essential oils. This product is completely safe for your RV and family.

PERMA-SAFE SURFACE PROTECTANT AND DISINFECTANT
Most disinfectants and sanitizers on the market are formulated for cleaning and sanitization hard, non-porous surfaces, such as counters and floors. Very few are safe to use on and compatible with the many different materials that fill an RV's interior. And even fewer are capable of, or EPA approved for "Sanitizing" or "Disinfecting" these materials, especially those considered "soft surfaces", which include headliners, carpets, upholstery, seatbelts, and more.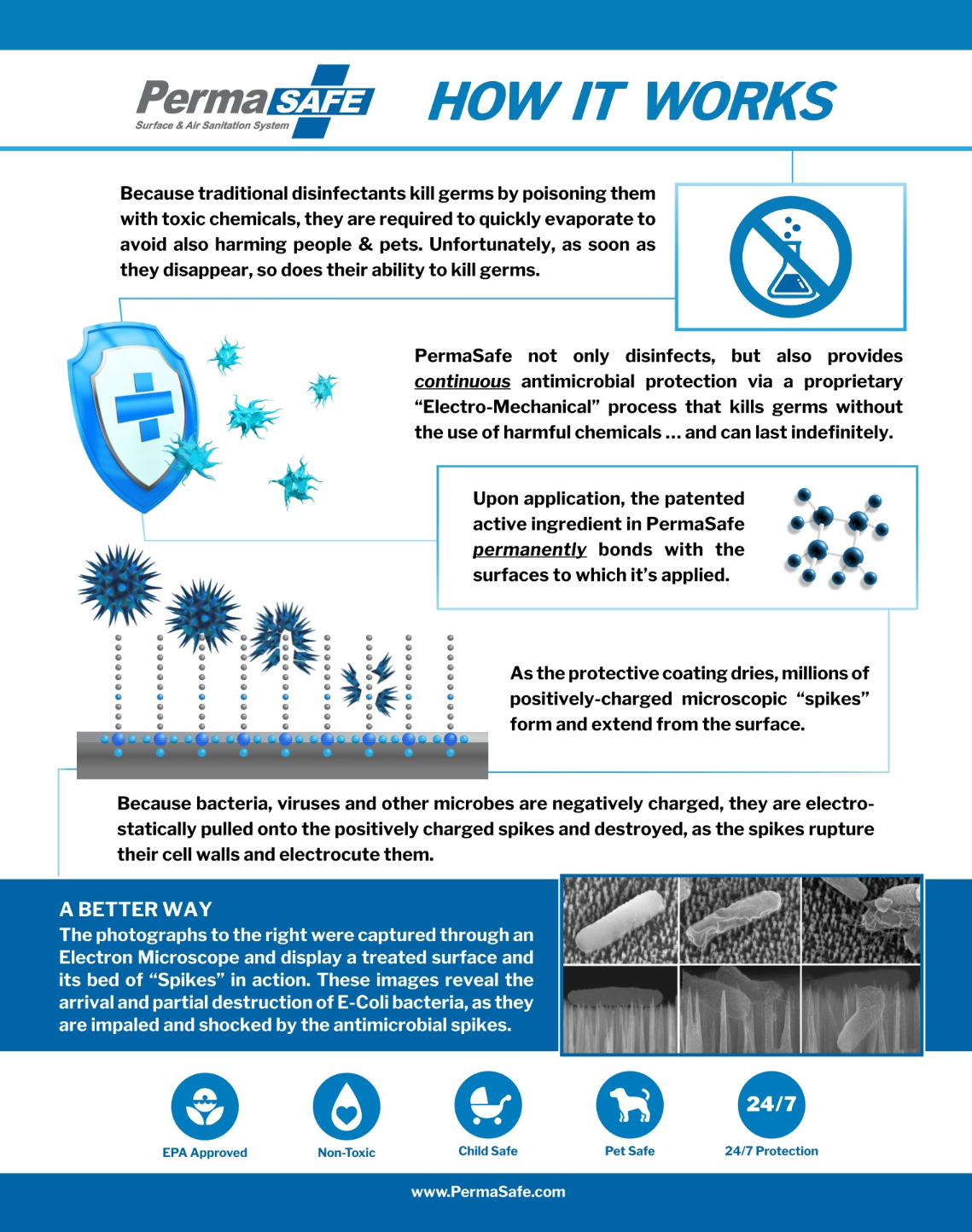 Conceived and formulated specifically for automotive use, PermaSafe's line of antimicrobial products include 60-Second RV Sanitizers, Broad Spectrum Disinfection Solutions and Long-Term Antimicrobial Treatments that provide months of continuous protection, as well as optional, high-value warranty products.
PermaSafe's RV antimicrobials are rated "CATEGORY IV" for toxicity by the EPA, their very lowest toxicity category, and one that equates to "Virtually Non-Toxic and Not an Irritant." It also means no gloves, respirator, or other Personal Protection Equipment is necessary to apply our products and no "Precautionary Statements" or Hazardous Warning are required on their labels.
No Precautionary Statements listed or required.
No Hazards to Humans or Domestic Animals.
No added dyes or fragrances, no after-odors.
No harsh chemical fumes, odors or residue.
Safe on electronics and touchscreens.
100% biodegradable and hype-allergenic.
Won't harm or stain RV interior surfaces.
No Personal Protection Equipment needed for applying.
No harmful chemicals, phosphates or VOC's.
Non abrasive, non-corrosive, non-staining.
EPA registered.
N-Listed.
NSF Registered.
CDC Compliant.
PermaSafe CLEAN meets the EPA's criteria for use against SAR-CoV-2, the noval coronavirus that causes the disease COVID-19.

NanoCure RV Appearance Protection With a 7 Year Warranty.
Protect your home away from home, from life's surprises on the road.
Utilizing superior formulations, our NanoCure with Nanoxide provides recreational vehicles a protective barrier for all interior and exterior surfaces. Even the most common roadway incidents can cause lifelong damage to an RV. Our RV protection coverage is tailored to the needs of the recreational vehicle owner covering components such as vinyl awnings and end caps carpet and upholstery, headlights and wheels.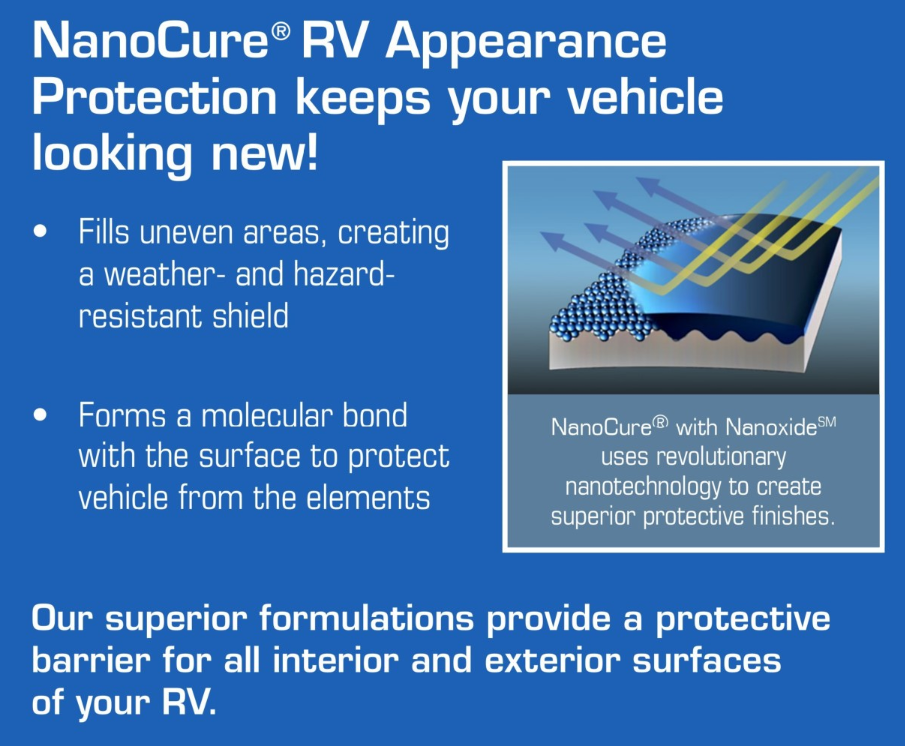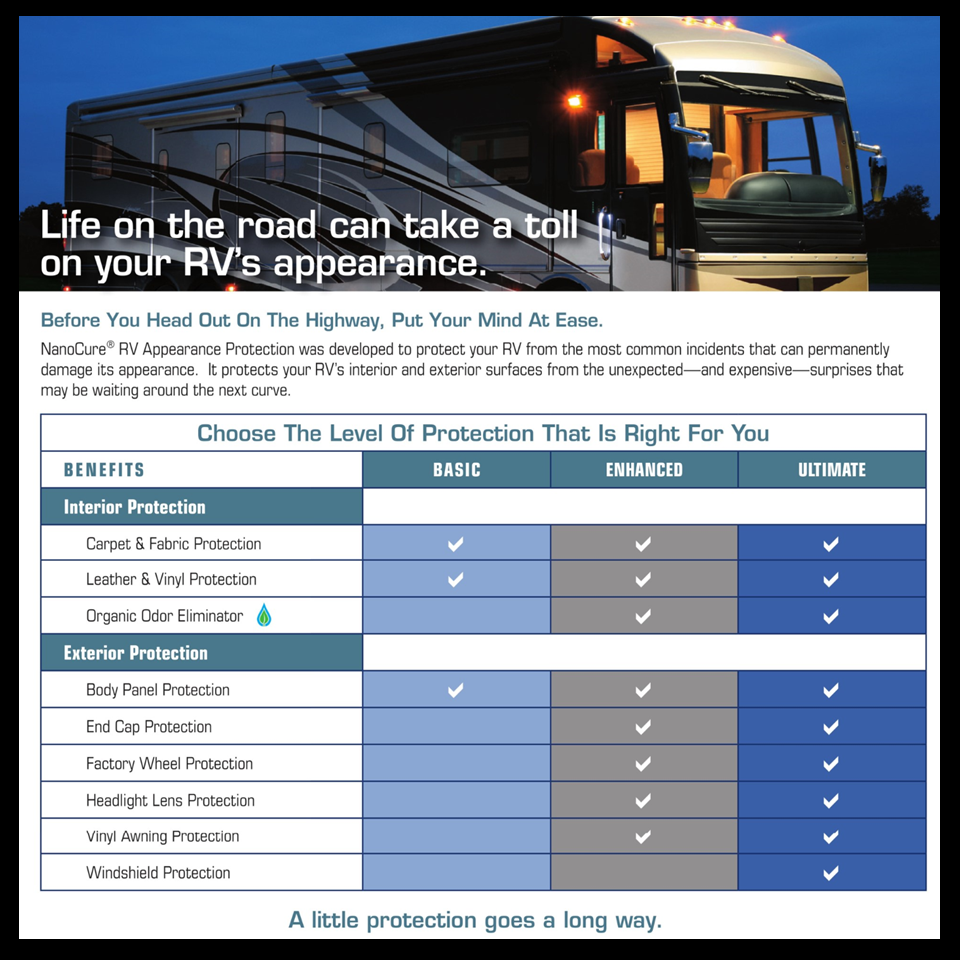 RV>Recon is a NanoCure "Approved Applicator."
Sold by local RV Dealers. Ask for more details.

Roof-Gard Rubber Roof Gard Protectant
Enhances rubber roof UV resistance and helps prevent fading, oxidation, drying and cracking.
Mild, non-abrasive formula keeps surfaces cleaner longer with no residue or oily build-up.   Contains no silicone, waxes, glycerine or petroleum distillates.   
Help Prevent Your RV Roof From Fading, Oxidizing, Drying And Cracking From Harsh UV Rays, Water Or Grime
A Finish That Repels Dust And Water
Roof Gard Has No Silicone, Oils, Waxes, Glycerin And Petroleum Distillates
Roof Gard Will Not Harm Rubber Roofing
Roof Gard Prevents Staining On Glass RV Tops
Roof Gard Protectant Is Ideal For All RV Roof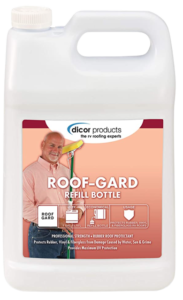 HENRY SILICONE ROOF COATING WITH A LIFETIME WARRANTY
887 Tropi-cool® 100% Silicone White Roof Coating.
Let us put the shine back on your RV roof with Henry® Roof Coating!
Henry® 887 Tropi-Cool® 100% Silicone Roof Coating is a premium, 100% silicone, moisture-cure coating designed to reflect the sun's heat and UV rays as well as protect many types of roofs. While suitable for use in all climates, the 100% silicone chemistry is especially suited for extreme tropical environments, which are exposed to some of the hottest and wettest weather with intense UV exposure. It is specially designed to maintain maximum reflectivity of heat and UV rays as it ages. Its moisture-cure chemistry creates a very aggressive chemical bond with the roof, which provides permanent ponding water resistance, extreme durability, and superior capabilities of sealing and protection.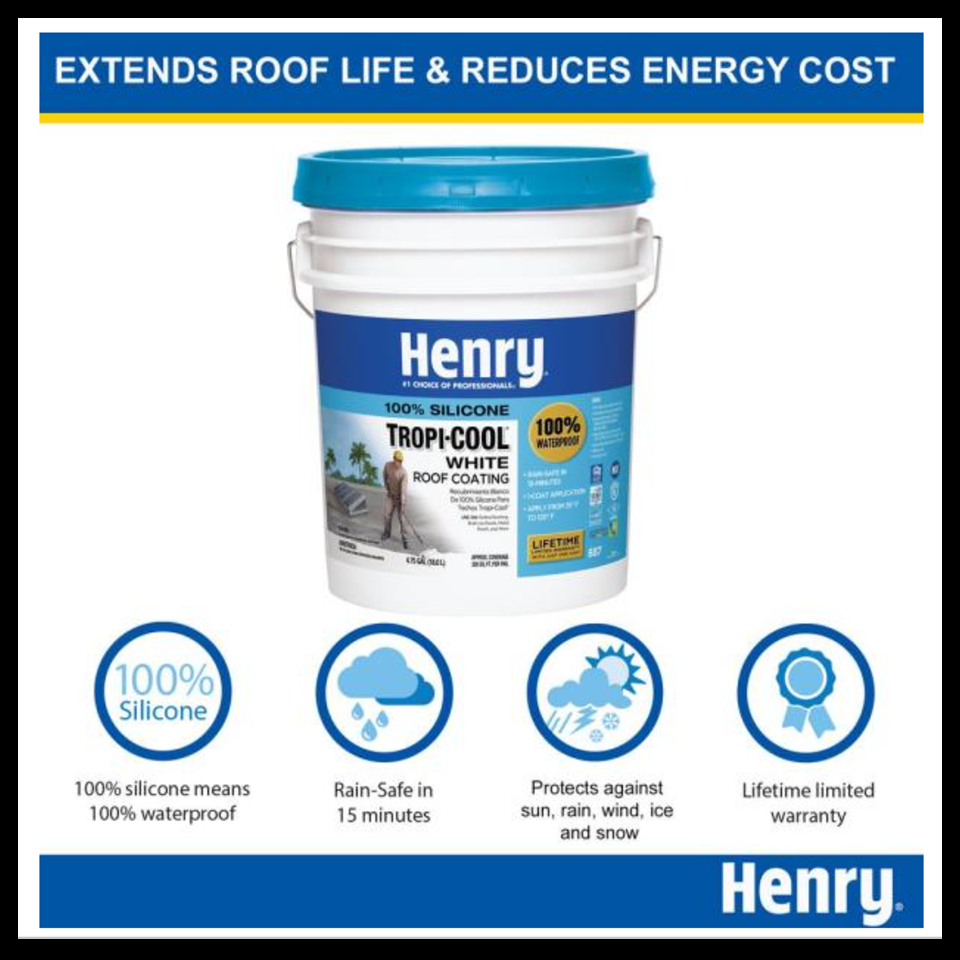 Features
100% waterproof
Rain-safe in 15-minutes
Wide application temperature range from 35° F to 120° F (2° C to 49° C)
Save energy by reflecting heat
Excellent adhesion and flexibility
Permanent ponding water resistant
Superior UV resistance and weathering characteristics
VOC compliant; solvent-free
Mold and mildew resistant
Chemically bonds with roof substrate as it cures
Easy to apply by spray, roller or brush
Lifetime limited warranty with 1-coat application
Colors
Available in White, Tan and Gray.